Superior Emergency Flood Damage Restoration in Coronado, CA
Are you facing water damage from a leaking roof or storm flooding? Time is working against you. Water quickly soaks past flooring into the sub-floor, and even wicks its way up walls and penetrates deeply into the building's structure. Immediate action prevents further deterioration and starts getting your life back to normal right away. Superior Restoration can be at your door in Coronado, CA within 60 minutes, 24 hours a day 7 days a week.
Superior Restoration is a full-service emergency flood damage restoration contractor - a single company that can take care of all your needs from water removal to emergency flood damage restoration. We have been in the restoration business for over 20 years and are fully licensed and insured. We hold the highest Better Business Bureau rating of A+, and all our work is guaranteed.
Full-Service Emergency Flood Damage Restoration in Coronado, CA
Whether from storm flooding, a roof leak, a plumbing failure, or an appliance break down, ignoring proper water damage restoration can lead to hidden water damage. That can be extensive and expensive, yet not be evident for weeks. Following industry best-practices, our water damage restoration specialists take a two-phase approach, supplemented additional certified technicians in areas such as anti-microbial remediation, upholstery and carpet cleaning, odor removal, and others.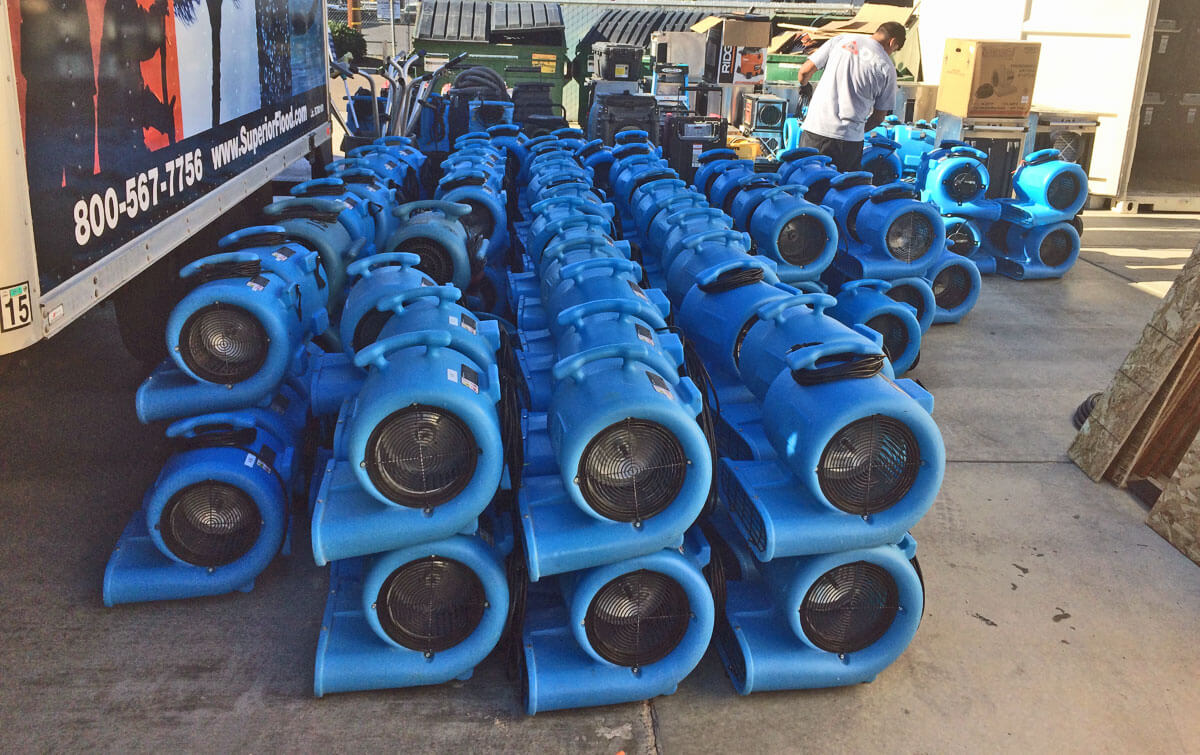 Water Extraction
By removing water from building surfaces as quickly and as thoroughly as possible, we reduce indoor humidity and reduce total drying time by a full day or more. Our advanced water extraction vacuums are up to twice as effective as other equipment, not just for floors but for walls and ceilings as well.
Building Structural Dry-Out
To pull out moisture trapped deep within the building's structure, we deploy a carefully selected mix of commercial air movers, refrigerant dehumidifiers, and other specialized heaters and drying equipment. Our experts make frequent measurements to optimize drying and to assure that moisture throughout the building is down to safe levels before we stop. That typically takes 3-4 days, even during damp Bay Area weather.
Insurance Issues
Standard homeowner and business insurance policies almost universally exclude water damage repairs due to natural flooding. You need a special flood rider for that. They're expensive, so many people choose FEMA's NFIP (National Flood Insurance Plan). Insurance coverage also excludes preventable damage, and that includes water damage repairs and mold removal that could have been avoided with immediate action from licensed services. Fortunately, the cost of those mitigation steps usually is covered.
Having dealt with pretty much every major insurance company covering San Diego County, CA for two decades, we'll know exactly what mitigation actions are necessary and exactly what detailed documentation is expected for a smooth insurance claims process. We'll provide that through email and web communications, including digital photos, for ongoing communications and faster processing.