San Diego County's Trusted Mold Remediation Company
Do you have a residential or commercial mold problem? Even if you merely suspect you might, calling in a mold remediation expert is a wise precaution. You could have a significant outbreak that's completely hidden from view, with your only clue being a musty odor. But make no mistake, it would still be causing health problems and slowly damaging building materials. Our licensed specialists are available for mold inspection and testing 24 hours a day with prompt arrival throughout San Diego County to put your mind at ease.
A Bit About Mold Growth
Mold is a type of fungus and doesn't need light to grow. All it needs is a bit of moisture and a tiny amount of dissolved nutrients. Mold prefers to grow in the dark and to live off the cellulose found in wood, paper, and cloth. It could be growing undetected for weeks or months underneath the flooring, within a crawlspace, or inside a wall.
How would you know? Even if you can't see any fuzzy blotches, you may notice a characteristic musty odor. Family members (especially children and the elderly) or employees may be experiencing the following:
Eye, nose, throat, or skin irritations
Allergies or prolonged flu-like symptoms
More frequent asthma attacks
Many types of mold are highly toxic, emitting airborne poisons that can lead to severe conditions such as organ damage with prolonged exposure. You've probably heard about black mold. Not all black varieties are toxic, and not all toxic varieties are black.
Mold spreads easily by releasing tiny, almost invisible spores that float freely in the air. Those spores are present pretty much everywhere outdoors and usually make their way indoors as well. With the onset of any dampness, mold can bloom in as little as 24 hours. That could be from a leaking roof or plumbing, a large spill, natural flooding, or just poor ventilation in a bath.
Because of the ease with which it spreads, along with the potentially very serious health hazards, the EPA (Environmental Protection Agency), CDC (Centers for Disease Control), and OSHA (Occupational Safety and Hazards Administration) urge professional mold remediation for all but the smallest of problems. They have set detailed guidelines and requirements for professional mold removal.
Why Choose Superior Restoration?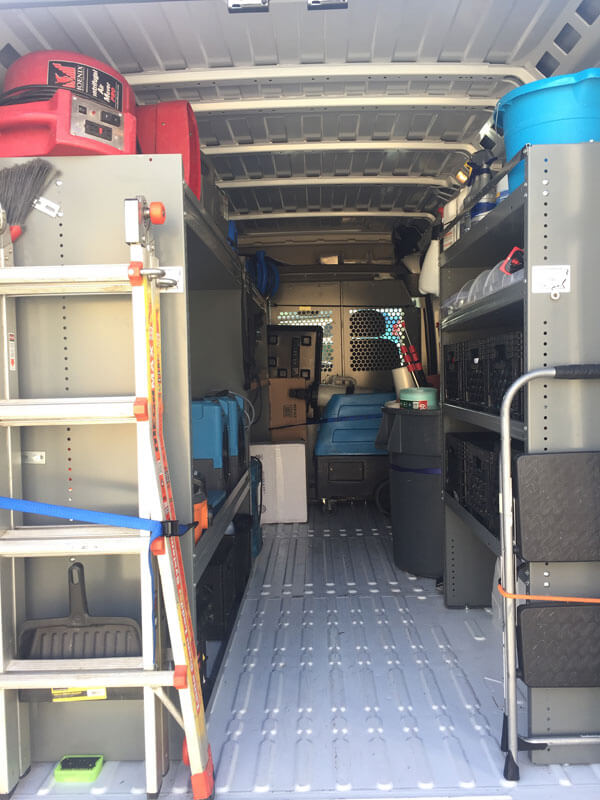 As a full-service disaster restoration company, we employ licensed specialists in mold removal and are a mold-certified firm with B and C-15 contractors licenses. Our inspectors and technicians are highly trained and certified by industry leaders such as the IICRC (Institute of Inspection, Cleaning, and Restoration Certification), RIA (Restoration Industry Association), and CRA (Cleaning and Restoration Association). We're held to high ethical standards by our DKI (Disaster Kleen International) affiliation and can draw on their personnel and equipment resources for major projects. We maintain over $2 million in insurance, including liability and property damage, worker's compensation, and environmental pollution.
Holding the Better Business Bureau's highest A+ rating, Superior Restoration has been in business for over 20 years, providing exceptional technical services and customer care throughout San Diego County, CA. With ongoing training and the latest in equipment and procedures, our goal is to offer nothing but the best at affordable rates. For those with applicable insurance coverage, we work directly with your insurer, providing the detailed documentation and special processes they require for a smooth and swift claims process. We guarantee our work and are happy to provide references.
Our San Diego County, CA Mold Remediation Services
Our certified and licensed inspectors and technicians follow the comprehensive ANSI/IICRC S520 Standard Reference Guide, as well as other guidelines and OSHA regulations, to the letter. We do everything possible to assure a complete resolution of your residential or commercial mold problem, safeguarding building occupants and restoring the building.
Inspection and Testing
Remediation begins with a thorough understanding of what needs to be done. Our experts take air and surface samples for testing to determine the nature and toxicity of the problem. A visual inspection also assesses the location and extent of the growth and may include borescope inspections inside walls and other building cavities.
Isolation
Our crews then isolate the affected areas with plastic sheeting to prevent the spread of spores, toxins, and other contaminants. Inside the work area, they'll also set up HEPA filters along with negative-pressure exhaust fans, so air flows into the moldy areas then directly outside.
Mold Removal
While wearing protective equipment and clothing, our specialists will thoroughly remove mold and mold spores using the most suitable approved removal methods, such as chem-wipes and HEPA vacuuming. Affected porous materials such as sheetrock (also called gypsum board and drywall) must be removed and replaced.
Abatement and Decontamination
We'll follow through by applying non-toxic mildicide and, in exceptional situations, permanently encapsulating porous building materials that we can't remove. We'll also take care of surface cleaning, air duct cleaning, and carpet cleaning. Our experts will also determine the source of moisture so it can be corrected. As necessary, our water damage restoration specialists can provide thorough building drying.
Odor Removal
Our unique equipment can neutralize all musty odors, even those lingering out of reach. We use thermal foggers to latch onto odors and then utilize ozone generators to break them down.
Serving All of Southern California with Top-Rated Disaster Restoration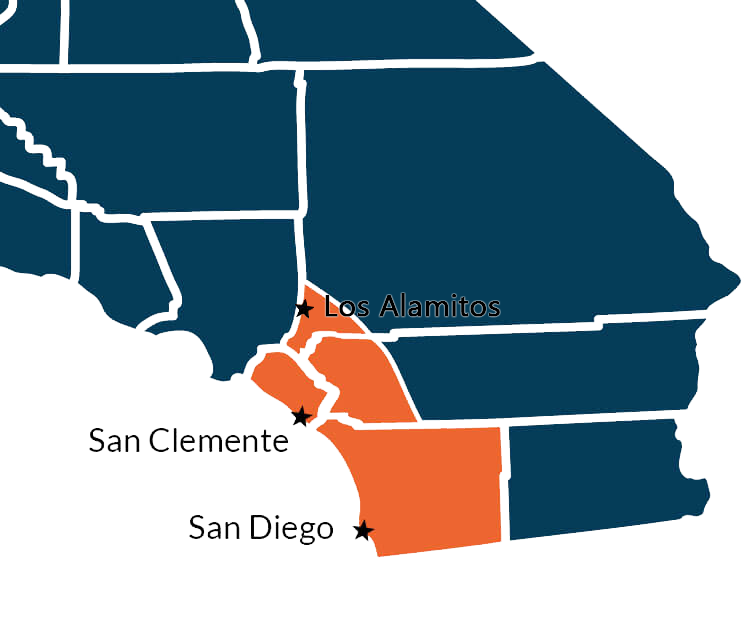 Proudly providing disaster restoration services to San Diego, Orange, San Bernardino, and Riverside Counties.